Boost My Home's Value With A Can of Paint
Posted by Oriana Shea on Wednesday, September 30, 2020 at 10:52 AM
By Oriana Shea / September 30, 2020
Comment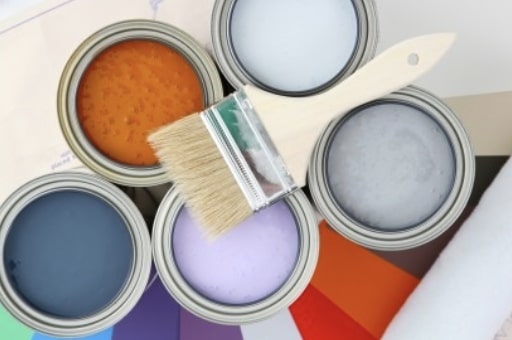 Home staging is all about allowing prospective home buyers to envision themselves living in your home. And, when done well, that's what gets top-dollar offers on a home and helps you sell quickly. The right colors compliment the room and help potential buyers mentally move in. When the space "feels good" to them is when they start envisioning themselves living in your home. A great place to start when staging a home for sale is by creating a blank canvas. Cleaning and decluttering are the first steps, and after that, one of the fastest, most effective things you can do is paint. But that leads to the ever-popular and much-pondered question: What color should you paint your home?
Exterior paint will improve the first impression your home makes on prospective buyers and will help you sell it faster. Look no further than starting with the front door! Bold front doors are all the rage. When potential home buyers pull up to your home, the first thing they'll evaluate is the home's exterior or curb appeal. Make sure the front door pops, and one of the best ways to do that is to paint it a bold color. Check out our Houzz or Pinterest and investigate popular door colors on the web.
Living Rooms: Create A Cozy Space.
When choosing a color for the living room, you want to think cozy and neutral. White, gray, and beige are better options because people prefer to concentrate in rooms with those hues, and both men and women find it least distracting. White has a very modern, gallery-esque look and is very flexible with anybody's decorating choices, but can look cold in the wrong setting. Bold colors get all the buzz, grays, neutrals, and whites are still the classics. You can easily create a "wow factor" in a neutral colored living room by cleverly using a few statement pieces such as wall art, pillows, a sculpture on the end table, or a bold rug. Accent colors can easily be brought in to make a splash with the accessories, so consider popping your favorite bold color in some throw pillows, lamps, vases, etc. We believe in the sage advice that "less is more."
Kitchens: Keep it Clean.
Why is the kitchen area so critically critiqued by buyers? Kitchens are the epicenters of a home where families spend time together cooking, eating and talking every day. It's the room that ties the family together the most. We recommend creating a clean and fresh look by painting the walls a warm light color to make the room feel bigger and the space look cleaner or a trendy color to accentuate your cabinets. Your wall color is the frame or backdrop for your cabinets and countertops. If you're looking to breathe a little life back into your kitchen cabinets, sand, apply primer, and two coats of an enamel paint suited for cabinets. Try white in a satin finish since it gives a clean and polished look without shine, and it has a durable finish that can withstand cleaning. If you want to add a little bit of "drama" into your kitchen design, try a soft gray or blue hue on your kitchen cabinets to make the space look cleaner and bigger. A popular design method lately is two-toned cabinets where the top cabinets are painted a light color and the bottom cabinets a popular dark color. This creates an illusion of more space.
Bedrooms: Cool, Calm, and Complementary
When considering what color you should paint a bedroom, consider hues like classic grays and cool colors for the master bedroom. Blues, grays, whites, and greiges (gray-beige) are all in vogue these days. They pair nicely with crisp white linens and leave plenty of room for accent colors. A nice eggshell finish will help pick up the natural light in the room. Be sure to use a complementary color palette and add pops of color where you can.
Bathrooms: Craft a Personal Spa Experience
A bathroom is a very personal space, and can be somewhat difficult to make appealing to everyone. But a simple trick you can employ is to think of it like a spa or a hotel bathroom. Focus on neutral color palettes and if you want to add a little personal touches, think soft, sleek, and natural.
It's no surprise that light tones are often the best choice for marketing and selling luxury properties. The key is to select colors that are popular and flow through the house naturally. They let a home speak for itself and provide buyers with a blank canvas on which to imagine their furniture, art, and decor in the home.
Bottom Line
Staging your home is vital for most potential home buyers to visualize what a space could look like. They also assume that minor cosmetic repairs are more expensive than they really are, which means lower offers.
At The Oriana Shea Group we help our sellers prepare their homes for the market by reorganizing, recommending simple repairs, and properly staging the home. Homes are then ready to be professionally photographed, listed, and launched into our comprehensive marketing campaign.
Call (562) 270-1775 Today or Contact Us HERE!