Ya Gotta Eat: Homemade Gluten Free Manicotti
Posted by Oriana Shea on Tuesday, June 13, 2023 at 1:06:21 PM
By Oriana Shea / June 13, 2023
Comment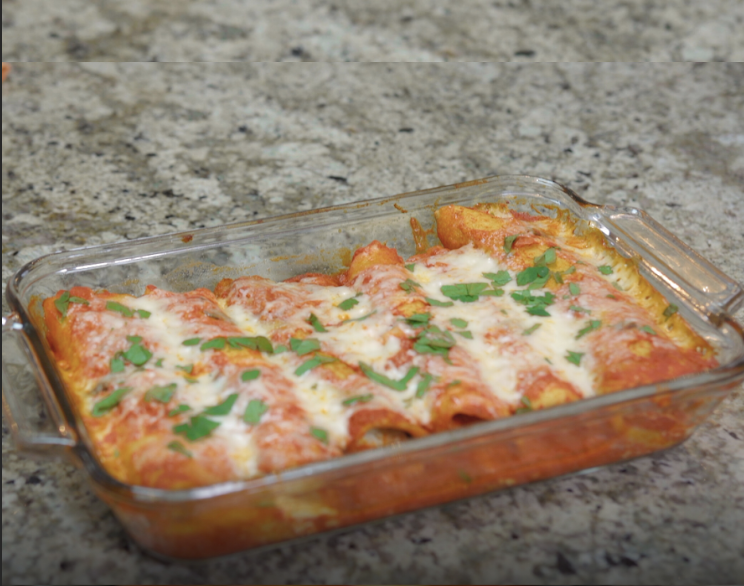 Shut the front door! How can a delicious pasta dish like this one be gluten-free? Substituting Casava flour is the secret. Your guests won't know the difference and anyone that needs to steer clear of gluten will love this dish! You can also get creative with the filling and substitute a meat or veggie filling for the cheese filling below.
Crepe Shells:
1 Cup Casava flour

1 Cup Water
4 Large Eggs
½ Teaspoon Salt
2 – 3 Tablespoons Butter or you can use cooking spray
Filling:
1 ½ lbs Ricotta cheese (or 1 large container)

3 Large egg
¼ - ½ cup chopped fresh Italian Parsley (I like a little more, but you can use what you prefer)
½ Cup grated parmesan cheese (or you can mix Parmesan and Romano cheese)
1¼ Cups shredded mozzarella
Salt and pepper
Mom's Easy Homemade Sunday Sauce (** See separate recipe)
In a bowl beat the eggs, water and salt. Whisk in the casava flour a little at a time and mix until smooth. Heat a tablespoon of butter in an 8" skillet or use cooking spray. It should be a thin batter. You want them to be light. Pour about a ¼ cup of batter into the center of the skillet. Rotate the pan in a circular motion to spread the batter into a 6" circle. Add a little more to cover the bottom if need be. Cook over medium heat until it sets then carefully flip it with a wide spatula and be careful not to let it brown. They cook fast (about a minute on each side). Stack the crepes with waxed or parchment paper in between and set aside. This makes between 18-22. (You can freeze whatever you don't use!)

For filling, beat the egg then add the ricotta cheese, folding it in until the eggs are absorbed and it's a smooth consistency. Fold in a ¼ cup of parmesan, ½ cup of the shredded mozzarella, half of the parsley, salt, and pepper. Use a whisk or fork to combine. Spoon 3-4 tablespoons down the center of each crepe; roll up. Coat the bottom of a 13 x 9 baking dish with some olive oil and a ladle or two of tomato sauce. Place the crepes seam-side down over the sauce and arrange them in the pan. Ladle more sauce over the top until you have covered the crepes then sprinkle the rest of the shredded mozzarella cheese and grated parmesan cheese over the top.

Insert toothpicks before covering with aluminum foil so the foil doesn't stick to the cheese. Bake at 350 degrees for about 20 minutes. Uncover and bake for another 20-25 minutes longer or until heated through and sauce is bubbling. Sprinkle the remaining fresh chopped parsley to garnish and serve.
Click HERE To See the Full Episode On YouTube!