Make Real Estate Your Wealth Building Asset
Posted by Oriana Shea on Thursday, May 13, 2021 at 1:49 PM
By Oriana Shea / May 13, 2021
Comment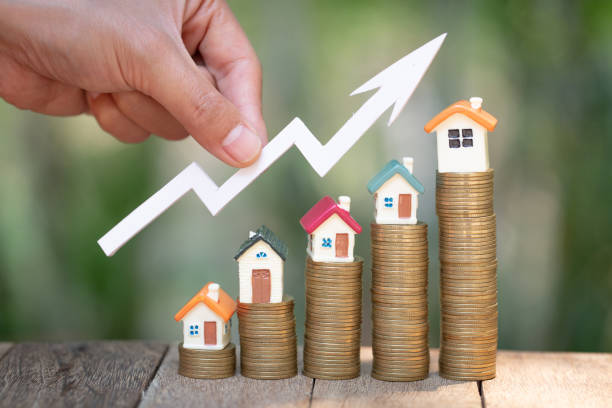 Where do you see yourself in five years? If you are in the market for a new home or already a homeowner, you could see yourself with a substantial increase in net worth. Most experts project home values to continue climbing over the next several years.
Homeownership is an investment that not only delivers on the promise of a place of your own to feel safe and secure, to build memories, and to share experiences with friends and family, but it also can bring you a significant financial benefit!
Net Worth & Your Home
It is no secret that as you make your mortgage payments, the amount you owe on your home goes down while the equity in it goes up. Making improvements inside your home or to its curb appeal can be a rewarding experience, not only to you but to your home's worth, further adding to your equity in the property.
Additionally, however, as time goes by, the real estate market historically tends to trend upward, making time your friend when it comes to increasing your home's net worth even more!
However, the next five years look particularly promising, according to the most recent Zillow Home Price Expectation (ZHPE) Survey of over 100 economists, real estate experts, and investment and market strategists. They are forecasting home appreciation to increase as follows:
2021: 6%
2022: 4.5%
2023: 4%
2024: 3.6%
2025: 3.5%
How Does Home Appreciation Translate Into Dollars?
The graph below shows the equity build-up you could earn, based on the purchase of a $350,000 home: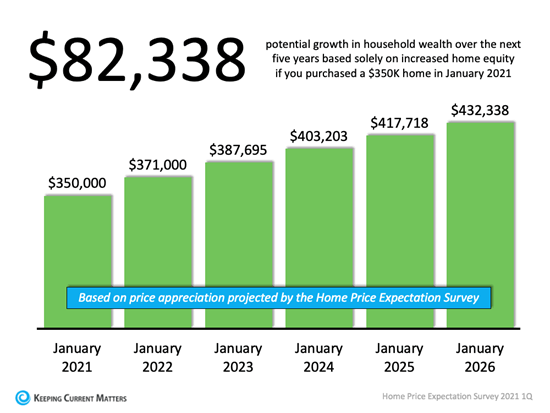 According to these projections, you could see a net worth increase on this price point of over $80,000 or an average of $16,000 annually over the next five years!
As home prices continue to climb in this market, homebuyers may worry about high mortgage payments, and that is why it is important to buy sooner rather than later. Due to low mortgage rates, Mark Fleming, Chief Economist at First American, points out that monthly payments are still below the numbers we saw in Spring 2019 but are approaching a return to that level this spring.
Experts project rates to continue to rise this year, and homebuyers cannot afford to wait to lock in the lowest mortgage rate they can get in order to afford their dream home.
The Path To Financial Freedom
If you're already a homeowner, sit back and let your home build your wealth. If you're in the market for a new home, call us today and let us help you find that home you can enjoy while it puts money in your pocket!
Call (562) 270-1775 Today or Contact Us HERE!