Orecchiette Pasta With Rapini & Mushrooms
Posted by Oriana Shea on Monday, January 27, 2020 at 11:09 AM
By Oriana Shea / January 27, 2020
Comment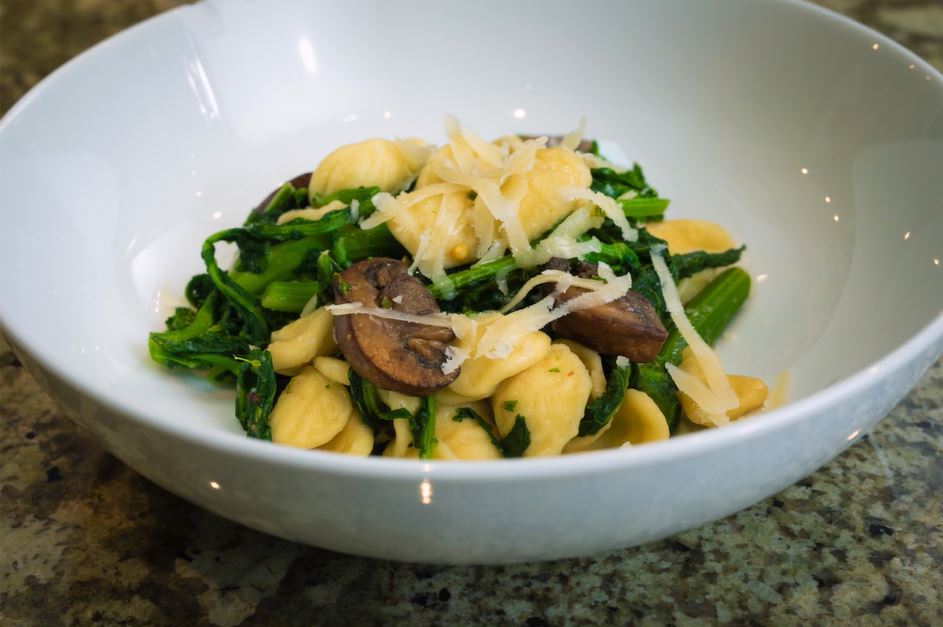 1 Large bunch or 2 medium bunches of Rapini (AKA Broccoli Rabe)

1 Package Crimini Mushrooms - Sliced

5-6 Cloves of Garlic, chopped

1-2 Tbsps Butter

About 1/4 Cup of Good Extra Virgin Olive Oil

1 lb Package of Orecchiette Pasta

Salt to taste

Red Chilli Pepper flakes to taste

Fresh Parmesian, for grating
----------------------------------------------------------------------------------------------------------------
Fill a large pot halfway with water and bring it to a boil and add salt.
Cut the stems off of the Rapini then chop it 2-3 more times. Rinse it a few times in the pot then cover it with water and put the lid on.
Bring it to a boil. When you can pierce a stem with a fork remove it from the heat and drain the Rapini in a colander. Press it down with a bowl to get as much water out as you can.
Melt the butter in a large skillet, add the mushrooms and cook on high heat to brown the mushrooms. When the mushrooms are just about done add the chopped garlic and olive oil.
Turn the heat down to medium and cook the garlic for a couple of minutes in the olive oil and mushrooms then add the drained Rapini, salt & red pepper flakes, and toss.
Add the pasta to the large pot of boiling salted water; cook until al dente.
Drain the pasta then add it to the Rapini mixture and carefully toss it together over low heat.
Add it to your plates and finish with freshly grated parmesan cheese on top.
Click HERE To See the Full Episode On YouTube!