Top Agent Magazine Features Oriana Shea
Posted by Oriana Shea on Thursday, February 17, 2022 at 8:38 AM
By Oriana Shea / February 17, 2022
Comment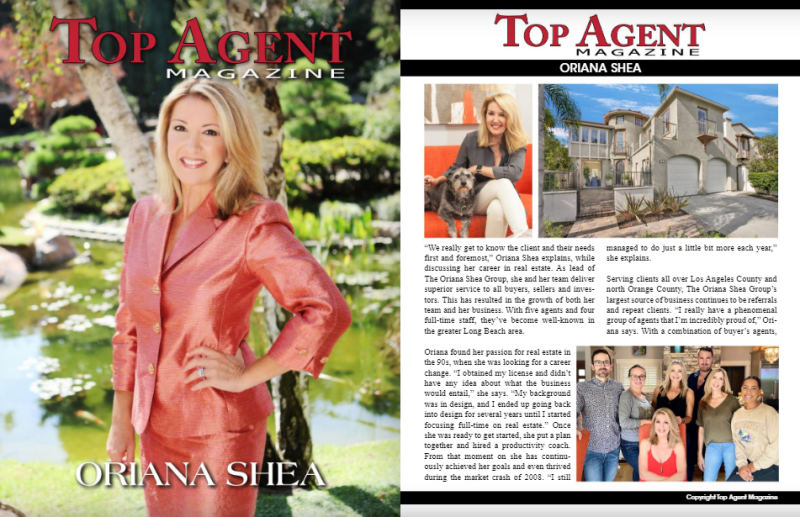 Oriana Shea, owner and team leader of The Oriana Shea Group, was recently featured in Top Agent Magazine, Southern California Edition.
Top Agent Magazine is the premier real estate publication featuring the top real estate agents, mortgage professionals, and affiliates in the United States, Canada, Europe, and Australia. It only selects the best real estate agents in the area to be highlighted.
Oriana was chosen because of her innovative marketing approach, attention to detail, high volume of home sales, and passion for both her profession and the community in which she lives and works.
"I am humbled to be featured in Top Agent Magazine among the best of the best," said Oriana.
With five agents and four full-time staff, The Oriana Shea Group has become well-known in the greater Long Beach, Los Angeles, and Northern Orange County area. Best Long Beach Realtors are staffed at The Oriana Shea Group.
"What we are doing is working and we are impacting people's lives in a positive way. Our clients are what's most important. It's about them. I'm genuinely grateful and honored that I have had this opportunity to help them and be a positive influence for the agents on my team."
Oriana offers complimentary buyer and seller consultations to map out a strategic plan for her clients and to create a positive experience for them in their real estate journey.
To read Oriana's feature in Top Agent Magazine, visit: https://topagentmagazine.com/top-real-estate-agents-in-southern-california/
To learn more about Oriana and The Oriana Shea Group, visit www.OrianaShea.com, or call (562) 270-1775.
Call (562) 270-1775 Today or Contact Us HERE!