Ya Gotta Eat: Egg Drop Turkey Meatball Soup
Posted by Oriana Shea on Wednesday, June 21, 2023 at 8:33:23 AM
By Oriana Shea / June 21, 2023
Comment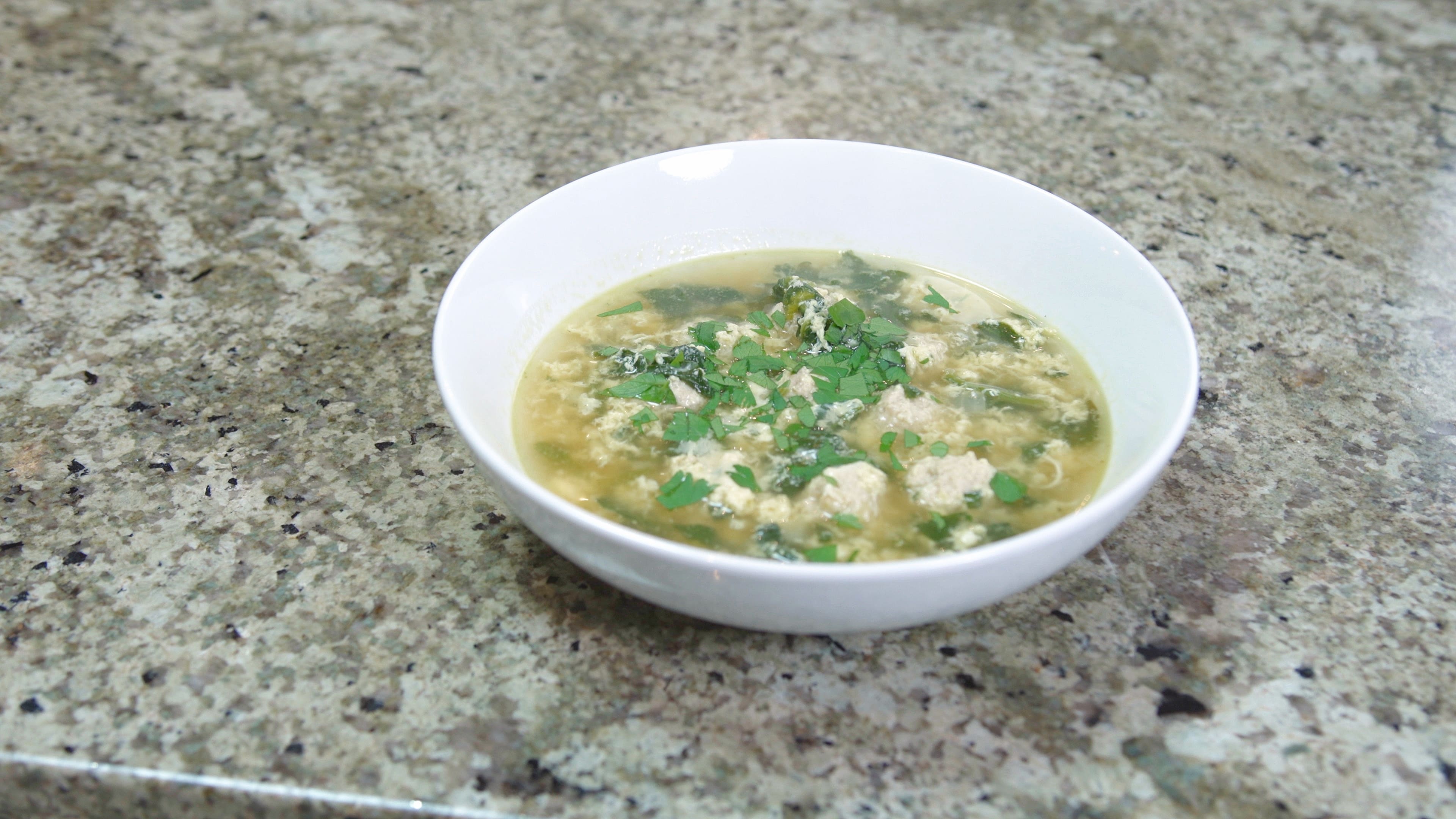 1 Small or ½ of a Large Sweet Onion chopped
2-3 Tbsp Extra Virgin Olive Oil
8-10 oz Chopped Spinach
6-8 Cups Chicken Broth
1 lb Ground Turkey
4 Eggs
½ Cup Parmesan cheese
½ Cup Breadcrumbs (Panko or Italian-style breadcrumbs)
2 Tablespoons of Chopped Italian Parsley
1 Tsp. Garlic Powder
Salt and Pepper
1 Tsp to 1 Tbsp. of Better Than Bouillon (add as needed to taste)
Heat the olive oil and add your chopped onion. Drop the heat down when the onion begins to cook. Sauté the onion for about 5-6 minutes until softened then add the chopped spinach. When the spinach is wilted add the chicken broth and increase the heat to allow the broth to come to a boil. While the broth is heating up make your meatballs.
In a bowl whisk 1 egg then add in ¼ cup of the parmesan cheese, breadcrumbs, Italian parsley and combine with the chopped turkey meat. Add in the garlic powder, salt and pepper. Mix well (I use my hands to combine these ingredients with the chopped meat). Roll the meat mixture into little meatballs about 1" in diameter and lay them out on a plate.
When the broth comes to a boil lower the heat and bring to a simmer then add the meatballs. Allow the broth to continue to cook for another 10 – 15 minutes. Taste the soup and if needed add a teaspoon to a tablespoon of Better Than Bouillon to adjust the flavor of your broth.
Beat the remaining 3 eggs and the remaining ¼ cup of parmesan cheese for the egg drop mixture. Remove the soup from the burner then slowly pour in the egg mixture while stirring your soup. The egg will cook in the hot broth as you stir it in.
Ladle the soup into a bowl then top with a little parmesan cheese and fresh chopped parsley. Serve hot and enjoy!