Sharon was amazing through the whole process! She was available day and night, answered all my questions, came prepared with the info I needed, and made the whole process as easy as could be. We hit several bumps along the way, and she was like my personal cheerleader helping my family get through the process of buying our first home.
Katie Harris
Not only is Sharon extremely professional and an expert agent, she completely goes above and beyond! Working with Sharon was like having a good friend looking out for my best interest and pulling through to make my dream home happen. I'm beyond grateful for Sharon's talent, and complete transparency in helping me answer questions and explaining the process. She's been lovely to work with and will be my reference for my friends and family who are seeking to purchase their future dream home.
Daliasurfer
Sharon was an exceptional resource as our realtor. She helped us buy our first home and answered all of our newbie questions with grace, patience, and detail. Every step of the way, Sharon was there to help. She was quick to respond, flexible and informative. Even after our home purchase was finalized, she was following up to check on us. I am so glad we worked with Sharon and I would do so again if we need a realtor in the future. Thank you, Sharon!
Katelyncaillouet
We hired Oriana after interviewing 5 or 6 other agents that focused specifically in our area. We chose Oriana because she was prompt, responsive, very professional, accommodating to us, and her marketing materials were *far and away the best* of everyone we interviewed. We originally found her via one of her team members at another listing. The whole team is great to work with and we closed very happy with the way the sale went!
Elliot D.
I met Sharon Armstrong at an open house and I knew right away she was the Real Estate Agent for me. I had met other stuffy agents at other open houses, but Sharon seemed more like a friend that wanted to go house shopping with me. She genuinely wanted to help find me my dream home, and have fun doing it. I was a first-time homebuyer and had so many questions. She was always available with answers and held my hand every step of the way. We searched for months for the right place, and now that it's all over I really understand how important your relationship with your agent is. You end up spending a lot of time together. I've already recommended Sharon to my friends and family and will continue to do so.
Holly S.
I would definitely recommend Oriana and her group if you are interested in buying/selling your home. She and her team are true professionals and made the job of selling our home much easier. She and her team walked us through each step and were always available to answer questions. Our house sold within 12 days of hitting the market
Ann G.
I can honestly say that Oriana and her wonderful team made buying our first condo a great experience! All of the help they provide is amazing and they truly care about you. We felt like they went above and beyond to make the process seamless by meeting with us at odd hours due to our complex schedules. Do yourself a favor and let Oriana and her team find you the home that you deserve!!
John H.
Great group of people to have working with you. Oriana and her team helped me selling my house in SoCal while I was living in Connecticut. They did everything for me! My house had a buyer before we formally put it on the market. Her team was there for all of the appointments for inspections, appraisal, etc. while I was on the East Coast. I HIGHLY recommend Oriana Shea and her team!
Jackie L.
Oriana was incredibly patient with me as I had been trying to move from Los Angles to the Los Altos section of Long Beach for several years weighing the choice of commuting to LA for work against the attractive valuations in Long Beach relative to pricey West LA. It honestly took me a few years of on-again/off-again searching until we came across the perfect house and Oriana was able to submit the offer and get it accepted within a day or two under market. She was personable and professional throughout the process and very in tune with the local market as well as supply/demand and valuations in the general SoCal region. She also is excellent in helping with design ideas and local contacts for workmen and we remain friends several years after our transaction. You will enjoy working with Oriana and find her service nothing short of excellent.
Dennis Cottone
Oriana has been my real estate agent for many years. I was looking for a home near CSULB close to ten years ago. After discussing with her exactly what I was looking for; lot size, room arrangements, and condition of house, she showed me several houses which met my requirements. She was a fabulous negotiator with the seller's agent, and I got a great price for my dream house. Since then she has represented me when selling other properties. I have recommended her to friends and she has sold and bought for them as well. Oriana knows the Long Beach area and the surrounding areas extremely well, and she will find exactly what you are looking for. Oriana is also very personable, friendly and very easy to work with.
Carolyn Katsufrakis
Simply the BEST!!! We used Oriana a few years ago for the sale our home and the purchase of another in the area. Utimately, the deal didn't work out as the buyer of our home fell thru as they had a co-signer back out (the purchase of our new home was contingent on the sale of our existing home). Oriana and her entire team demonstrated the highest level of professionalism, knowledge and communication throughout the entire process. From the first time we met with her when she shared her marketing strategies to the completion of the transations we had all our questions/concerns addressed in a prompt and professional manner. She helped us prepare and 'stage' our home and had professional photographs to help ensure we'd have timely offers for the top dollar value. I have recommended her to several other friends/neighbors and will continue to do so. Thank you Oriana Shea and Company!
Shannon Cunningham
My husband and I had the pleasure of working with Oriana during the purchase of our home from family. We are first time home buyers so the paperwork was overwhelming but she helped explain everything quickly and efficiently. The whole process was nerve racking but she kept all parties involved aware of everything that was going on. She has a great team working with her that are really on top of things. Even the termite company she used for us did such an amazing job that I have been recommending them to everyone I know. Thank you Oriana!
Emma Sisk
Oriana is an awesome real estate professional! Her expertise made selling our home an absolute breeze. When the buyers gave us trouble, Oriana handled the issues and kept the closing on track... I would recommend her without reservation, her knowledge and experience was invaluable in selling our home! The only reason I gave her a 5 star rating is because 6 stars was not an offered option... we love you Oriana!
Tom Charrier
If you are thinking of buying or selling a home in the Long Beach area...LOOK NO FURTHER. There is no one better working in Real Estate today than Oriana Shea. We were fortunate enough to first meet and become friends with Oriana and her "MacGyver" husband Mike when they moved in across the street from us. So when the time came for us to sell our house, we made one call! That was it, Oriana and her team handled EVERYTHING!!! I really wished we could have bribed them to pack for us too! We couldn't have asked for a better experience! Thanks to O and her team!
Williamsons
Oriana and her staff are true professionals. Oriana's warm and gracious personality makes her a sincere pleasure to work with. Her expert marketing techniques including an Internet virtual tour of the home were beyond anything we could have imagined. Oriana has a complete understanding of the market, pricing and timing. After the first weekend of open house, we had five solid offers and accepted an offer for $25K above our initial asking price. Just look at the other reviews. If it were possible, we would have given her 10 stars. We have recommended her to our friends and will continue to do so. There is no one like Oriana Shea.
The Gordons
I needed to sell my town home, and quick. It was sold in 3 days. Did I say quick?!? Before selecting a real estate agent, I searched the internet for the best realtor in Orange County. I came across Oriana's website, viewed her video, talked briefly with her on the phone and that was it! We met to go over my plan for my home, and she took it from there. I was so impressed by her professionalism, attention to detail, and the way she handled everything from start to finish. It was my first home sale, and I have to say that it was the smoothest, most stress-free sale that I've ever experienced. Both Oriana and her team were so attentive and responded to my phone calls, emails, and texts quickly (I bombarded them!) and reassured me every step of the way. Like I said, I sold my town home in 3 days...I would call that a successful sale. I highly recommend Oriana and her team, they're truly awesome!
Shelly P.
Oriana Shea and I met under a very stressful situation. She took time to listen, actively listened and then helped me through the process of selling my home. She is professional, knowledgeable, humorous, punctual and doesn't make a promise that she can't keep. She was with me every step of the way. I couldn't have asked for a better person than Oriana to help me during this time. It didn't stop there either. When I decided to move to Florida she sought out another realtor to help me and I am happy to report that I just closed on my new house. I am so thankful that Oriana Shea is in my life!
Dina D.
Oriana Shea is THE agent you want to sell your home! She basically got our home sold overnight. She has an entire team that supports her with professionalism and high efficiency. Oriana herself responds quickly to emails, text messages and phone calls...with the answers and solutions you want. Our house had one open-house followed the very next day with six offers! We ended up accepting one a few days later, above the list price. Oriana brought in a gifted photographer and produced both gorgeous, glossy fliers and a slide-presentation/video website link specifically for our home. Her dedication to her job, her high-standard work ethic and her refusal to disappoint her clients are all reasons to call her first. If you do, you won't want to call anyone else. We didn't, and we couldn't be happier about that.
Julie M.
The first time I meant with Oriana I remember her being very thorough and asking me many questions to help figure out what exactly I was looking for and believe me it was a huge help. I worked with her and her assistant at the time during 2011 and it did take awhile but of course mainly because many of the properties I was originally looking at were short sales and I'm extremely picky (and you should be too, it's a huge decision). Until I found the perfect home in Huntington Beach I knew it was the house for me, especially after Oriana found out that it was a normal sale; she worked on it non stop for me and within a month I was the owner of a new home thanks to her hard work. Keep up the good work and I hope you continue to help future home owners.
Jarrod F.
Oriana is someone I would recommend to anyone looking for someone to trust. It's hard to find that in Real Estate but she is nothing but exceptional and professional. We just closed escrow on our home in Long Beach. It was a very tough transaction with multiple offers and many issues along the way. She and her team were able to get our offer accepted and made all the little things that come up get resolved in a quick manner. Oriana knows Long Beach and all surrounding areas very well. She referred us to an excellent lender. She kept us informed during the whole escrow and checked in with us often to make sure we understood where we were at with the closing and that we were happy. I would use her again and again! Thank you thank you Oriana. We love our home!! ??
Michelle V.
If you are thinking of buying or selling a home in the Long Beach area...LOOK NO FURTHER. There is no one better working in Real Estate today than Oriana Shea. We were fortunate enough to first meet and become friends with Oriana and her "MacGyver" husband Mike when they moved in across the street from us. So when the time came for us to sell our house, we made one call! That was it, Oriana and her team handled EVERYTHING!!! I really wished we could have bribed them to pack for us too! We couldn't have asked for a better experience! Thanks to O and her team!
Cathy P.
Oriana was lovely to speak with. Very professional and knowledgeable. I did get cold feet but I will keep her number when I do purchase me and my wife's house! Thank you so much a greatly appreciate you!!!!!
Dionne P.
I was referred to the Oriana Shea Group by a close friend during an especially difficult time in my life, settling my parents' estate. My family and I found Oriana to be extremely compassionate, efficient and knowledgeable. As I progressed through the process of selling my parents' home, she was patient, understanding and thoughtful during my grief. I struggled to make even the most basic decisions, but she worked with me at my pace while patiently guiding me through the selling process. When I needed assistance in organizing the items to sell, Oriana and her team provided referrals for the estate sale. Her expertise was evident as she guided me through the unknown variables encountered in the selling process and helped me think through options for my decisions. I am extremely grateful to Oriana and her team for their expert help and would highly recommend their services to everyone. They are professional and efficient, but most importantly they have the biggest hearts. Thank you Oriana and team, you are the best!
Pete B.
David Sanchez and his team The Oriana Shea Group were amazing in every way! David is highly reliable, knowledgeable and went the extra mile in helping us buy the perfect home. We were linked to David thru a home buying app and didn't expect to be working with such a qualified agent!
As a local, he has great insight on the neighborhoods, places to shop and local restaurants which helped us navigate our home search. From start to finish, David was prompt and helpful in eliminating stress. He was willing to assist in all ways from recommending a fantastic finance group, Finance of America to coordinating outside contractor services. David goes above and beyond, with a smile and great personality that makes him easy to work with!
Thank you David and the Oriana Shea Group for answering all our questions, being trustworthy and true professionals! We are very grateful for you and your team for getting us into a beautiful new hom
Michelle H.
Jennifer Stanford and the Oriana Shea Group are complete professionals.
They understand that clients do business with people they like, and trust, but that between the two - trust is he most important aspect: Trust in their motives, knowledge, and ability to do the job to the satisfaction of the client. Liking them is always secondary, but: Who can't not like them?.
Ken S.
Oriana and her team are the "go to" real estate agency. They represent the highest degree of professionalism, courtesy, support, and integrity. I have been a client of Oriana for 15+ years and would never change my choice of real estate agent(s). She keeps in touch and offers suggestions and guidance regularly. I recommend The Oriana Shea Group wholeheartedly for they provide a service that ranks in the top 5% of the profession. Oriana and her team have my highest endorsement.
Anthony N.
Jennifer Stanford with The Oriana Shea Group is a caring, responsive, and detail oriented professional. The dedication she shows to her clients is unmatched, proving Jennifer always has your back and your best interests in mind! I highly recommend reaching out to Jennifer and The Oriana Shea Group for your realty needs.
Matt C.
Kimberly Smith is amazing and helped us with our first home. I would not have been able to do the entire process without her guidance, support, and knowledge. She is an amazing resource and has a solid team she's a part of. I highly recommend her for anyone going through that stressful process.
Kimberly R.
Kimberly puts her all into everything she does! You won't regret using her as your agent.
Sonia S.
Ask for Kimberly, trust me.
David L.
David Sanchez, an agent member of the Oriana Shea Group, is incredibly patient, well-informed, professional, friendly, and responsive. He was always willing to answer all our many questions about the several places we saw before we closed on our final pick He knows the area well, so he was able to give us tips about the best areas to live (or to avoid), and about where to find good coffee and food. We highly recommend David to anyone looking to buy a property in Long Beach!
Bahiyyih C.
Roni has been a huge help and a constant source of information. She's been helping me figure out and plan around my family's reverse mortgaged home. She has a wide pool of knowledge and is honest if she doesn't know something, though she always knows how to find the answer to our questions. This is a very professional company and every person I have interacted with makes you feel welcome.
Silent S.
Roni with The Oriana Shea Group has been helping me learn about the Real Estate buying process. She has been super helpful in guiding me as I prepare to own my own home some day. She is also super friendly and welcoming and answers all of my questions/concerns asap. 100% would recommend her as your next real estate agent.
Dennis L.
Incredible experience with Oriana group, professional, communicative, personable. I could write so many more adjectives, but bottom line, if you want the best agents in Long Beach, call Oriana Group. Highly recommend
G Josue C.
David Sanchez, is the BEST realtor we could have hoped for. He went above and beyond. He anticipated our needs and met them all with a smile on his face and expert advice. He was an absolute pleasure to work with and made the purchasing of our new home seamless. We feel so blessed that he was our realtor.
Sameer B.
My husband and I first met Oriana at an open house over a decade ago, but I knew immediately that when the time came to sell our home, that we would be calling Oriana. She was warm, authentic, knowledgeable, and caring, and I felt confident that she would be a great fit for us. A few months ago the opportunity arose to sell our house, and Oriana and her team were even more fantastic to work with than we originally imagined. Everything from the initial consultation to the marketing, sale, and transition went very smoothly, and we were extremely happy with the whole process. Selling a home and moving is never easy, but the personal touch that Oriana and her group provided went a long way toward making it a rewarding experience. Thank you, Oriana, Roni, Xinran, and the rest of the team!
April B.
Oriana and Team made our house look like something out of one those Home magazines. I think that and the detailed, well planned game plan got us the highest sell price in our area. Exceptional knowledge of the industry, super easy to work with.
Jim W.
We had a great experience with David Sanchez. As first-time homebuyers, we didn't know what to expect, but David walked us through the process and made us feel more comfortable. We are now happily living in our new home that's perfect for our growing family.
Thanks for all of your patience and professionalism every step along the way. We highly recommend David to anyone who wants to buy or sell a house since he always has your best interest in mind and genuinely cares for his clients.
Brenda L.
Oriana and her team came into our lives by recommendation. For this reason, on behalf of my family, I very much appreciate the recommendation and the kind and professional way that both Oriana and Roni St John handled the sale of our property in difficult moments for us. I would definitely recommend Oriana and her group if you are interested in selling your home. They are knowledgeable about the real estate business and combine that experience with a special way of being. I cannot use other words to describe them that are not sweet and kind. They always accompanied us in every step and were there for us in all the doubts we raised. Our house was sold in an optimal time and on terms that we consider favorable. Once again, thank you very much for the valuable help, we wish you the best and we are sure that you will continue to help many people with your excellent work.
Alfonso Q.
Worked directly with David Sanchez, he was fantastic! He was very responsive and diligent. We made one offer and purchased a home that was perfect for our family! We were able to communicate and work well together to get our offer accepted then over come some hurdles to get our purchase closed. Oriana was a great resource and helped support us along the way. I appreciate David quarterbacking the transaction, we made a great team. He was truly caring, thoughtful and respectful. I would definitely recommend him!
Diana J.
David was very kind, caring, and punctual from the very beginning. He let me know that his job was to protect me. I am a first-time homebuyer and really did not know what to expect. I was confident that he would guide me in the right direction. I wish you and the Oriana Shea Group much success and thank you all from the bottom of my heart!
Ivy J.
My husband and I enlisted Oriana to purchase our second home. We had purchased our first home in Rose Park, Long Beach—which we absolutely loved--and was finally in a financial position to move into a larger home closer to the ocean. We had our sights set on Bluff Park, a historic neighborhood. Oriana knew a lot about the neighborhood's history and the tax breaks available for owners of historic homes. From start to finish Oriana was by our side with her expertise, patience and persistence that we would find the home we were looking for. We cannot recommend anyone more qualified than Oriana to close a deal. We're 15 years in our home, and will gladly recommend Oriana to anyone looking to purchase a home in Southern California.
Claudia S.
The Oriana Shea Group was completely professional with regards to selling my house. I originally sold my house before it was listed, but the buyer cancelled the contract. Then, the Oriana Shea sprang into action. They listed my house and over the next 2 and 1/2 days there was a stream of buyers looking at the house. They were lined up on the sidewalk. This generated 21 offers. The Oriana Shea Group contacted the lenders to determine the validity and selected the buyer with the most solid lender, after getting them to beat the top offer. The bottom line is the house sold for 37k over listing and 12k above the first accepted offer
Throughout the process, the Oriana Shea Group worked tirelessly to complete the sell, resulting in a 22 day escrow. They also kept me in the loop by communicating with be at every step in the process. This level of effort and communication resulted in a virtually stress free transaction.
Les B.
I highly recommend Oriana and her team! Hard working, super knowledgable at effective marketing, process knowledge, and knowledge of the LB area. She is also a savvy negotiator. Very professional, she is willing to invest time and advise you even if you are not ready for an immediate transaction. You will not be disappointed.
Chris S.
We chose the Oriana Shea Group to sell our home of 40 years because of their extensive internet capability and "Full Service" experience. We were ready to update our home. Oriana knew what to do and had her team of floor refinishers, painters, gardeners, air conditioner installers, repairmen and stager were lined up amazingly fast. It all went very smoothly. The drone movie and photographs of the house were on the internet and looked GREAT! The brochures were beautiful! Then the open house and our home never looked so good! The open house was a huge success and we accepted the full price offer in 3 days!! It was wonderful to sit back and have full trust in the knowledge that they would handle the paperwork efficiently and we felt secure in signing all the papers. We could not have had a better experience.
Mitzi McCarthy
The team truly sits down and listens to your wants and needs before anything gets started. Customer service is at the core of their day-to-operations. When we bought our home, Michael and the team were there every step of the way. Their candor, empathy, and understanding were instrumental so as to not feel rushed and get exactly what we were looking for. Their patience, attention to detail, and their experience allowed us to feel as if the whole team was part of the family and were wholeheartedly educated in making the right purchase. These guys are beyond great!
Hugo Sanchez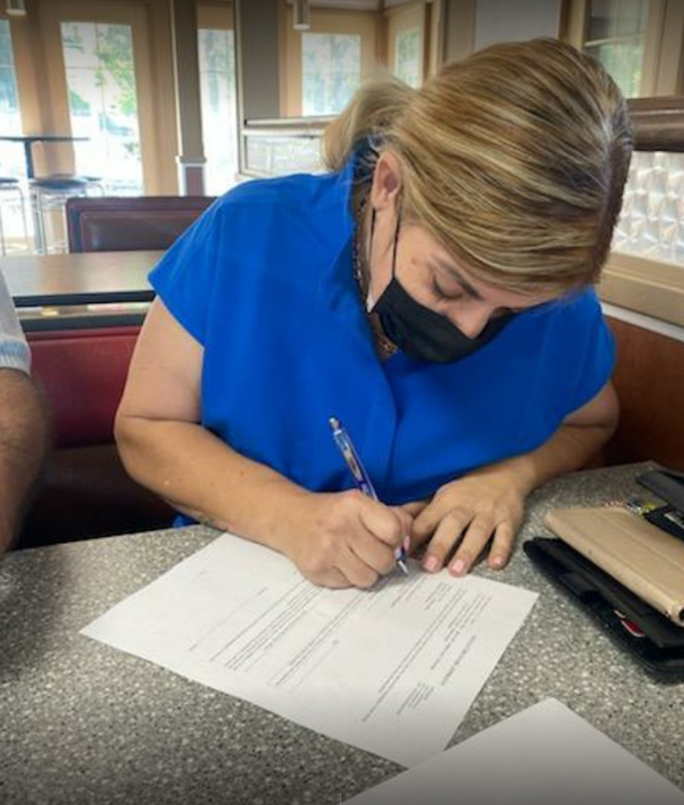 "I worked with David as my realtor and he was extremely patient with my needs and very knowledgeable . He was able to connect me with the perfect loan officer that guided me through the whole process, David was amazing. He found the perfect place for my girls and myself . I would highly recommend him and The Oriana Shea Group . Thank you so much ..."
Rosana R.